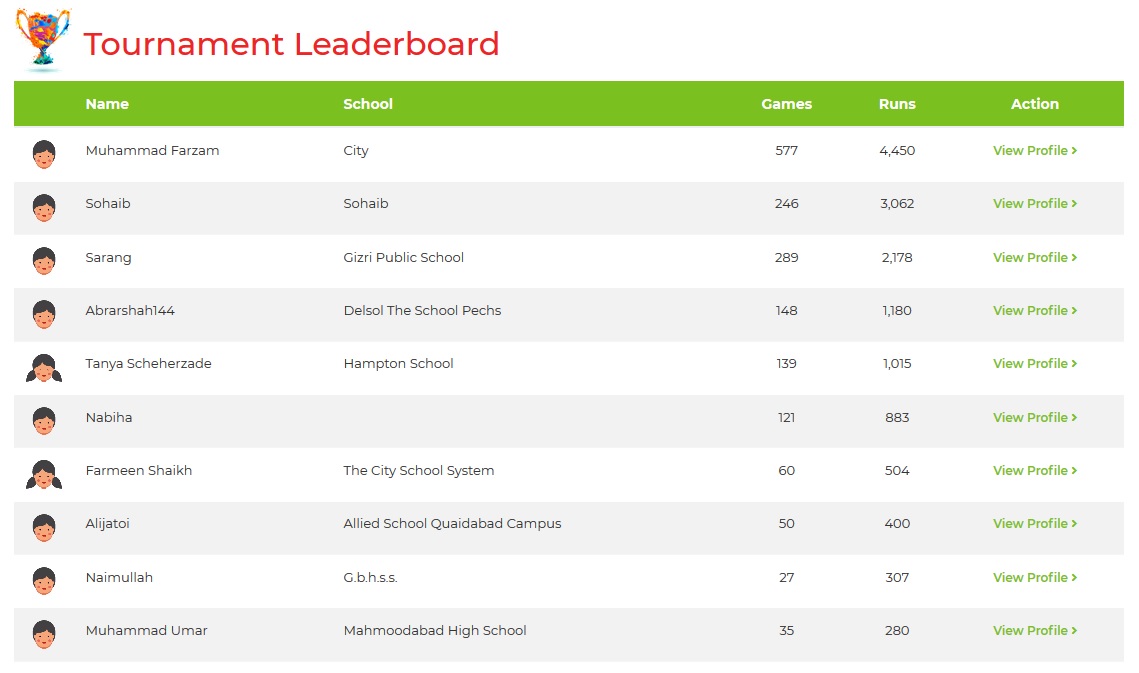 16 Jul

Farzam, Sohaib walk away with top prize

After 45 days and 2,284 games in the KarMuqabla Cricket Championship, Mohammad Farzam and Sohaib ended up bagging the mega prize of a two-month stint at the Moin Khan Cricket Academy in Karachi.

As the 45-day tournament came to an end, Mohammad Farzam led with 4,450 runs from a whopping 557 games. He played more than twice the games by his closest rival who bowed out after 246 games with a very healthy total of 3,062.

Both have already won signed cricketing gear for their performance.

Though clearly the leaderboard champion, Farzam with an average of 7.99 lagged behind rival Sohaib who showed impressive cricket knowledge with an average of 12.45. His was the highest among players with 50 games or more.

After Tanya Shehrezade from Hampton School had kick started the tournament with a breathtaking 675 in 94 games on Day 2, it was another girl, Rida Shakeel from The Learning Circle School, who closed the tournament with a patient 142 from 85 games.

Sarang from Gizri Public School was another star player of the tournament who ended up at third place with 2,178 runs from 289 games.

Also in the top five were Abrar Shah from Delsol The School, with 1,180 runs from 148 games and Tanya Shehrezade who finished with 1,015 runs from 139 games.

Just stopping short of the top five was Nabiha who impressed with her single day score while finishing the tournament with 883 runs from 121 games.

The winners are all up on the KarMuqabla facebook page and can message us with their contact details if they haven't yet claimed their prize.